RecoBra®  is a unique post-surgical bra designed for all breast cancer, cosmetic and cardio-thoracic patients. A seamless design that incorporates Maedical™ anti-microbial technology in the fabric of the garment design, that helps maintain the bra's freshness and cleanliness even after surgery.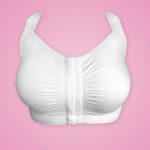 After extensive testing and with the help of patients and surgeons in London, the RecoBra designer and inventor, Nicole de Havilland, a breast care and lymphodema specialist has created the first bra for women who have undergone all types of surgery to the breast.  With a double panels front closure and adjustable shoulder straps, the unique modern design stretchy fabric with incorporated "zones of compression" that hold the implants and support the back and thoracic, make the RecoBra stand out from all other designs.  
"I love the bra, so soft and comfortable, yet fully supportive, I felt my wounds and breast were safe, thank you so much"  VJO breast patient London.
" Much more supportive and comfortable than previous than the previous bra I was given" MMB patient Stevenage.
Make you own mind up and visit the RecoBra